Hi readers,
Recently, Malaysian Police had upgraded their car to Mitsubishi Lancer Evolution. They had bought 25unit of Evo cars as I know it. No one can mess with them I think after this because sure Evo will get you up. LOL….
Sure there are extra gadget which will not be in normal cars. They can detect you where you are.
It will be used together with our national cars such as Proton Waja, Proton Wira, Proton Iswara & Proton Saga (old skul).
Here are some of the picture of PDRM's Mitsubishi Lancer Evolution.
Awesome car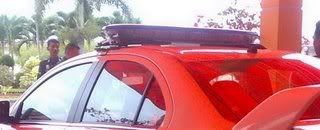 Credit to: Bungai Pengrindu
Incoming search terms: