Hi readers,
There are bunch of SPM students waiting for this opportunity based on my previous post for Malaysia Airlines Pilot.
Successful candidate will undergo a comprehensive training programme for approximately twelve months prior to being established as Second Officer.
Requirements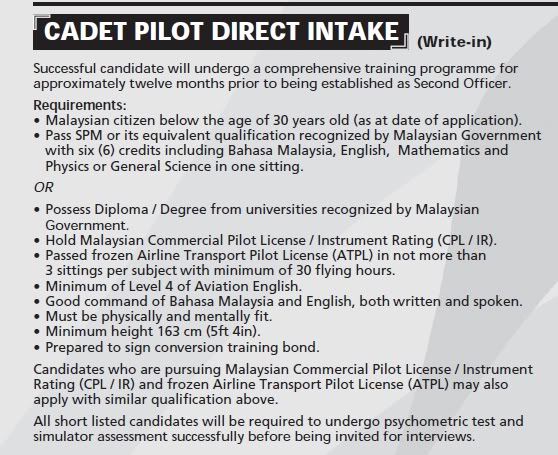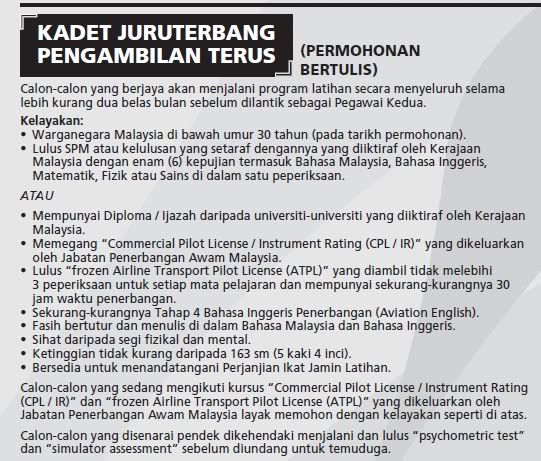 Please submit your application with complete resume and relevant qualifications to the following address:
MALAYSIA AIRLINES
Workforce Planning
Human Capital Division
2nd Floor, Administration Building 4, MAS Complex B
Sultan Abdul Aziz Shah Airport
47200 Subang, SELANGOR
Please indicate "Cadet Pilot Direct Intake" on the top left corner of the envelope.
Refer the advertisment here – Read nicely what they stated -TQ to Shaz.
http://www.psp.edu.my/pspweb/files/MAS%20Advertisment.pdf
Closing Date
09 April 2011
Only shortlisted candidates will be notified
Check here.
Incoming search terms:
pilot (194)
cadet pilot programme 2011 (87)
recruitment@malaysiaairlines com (78)
kadet pilot (78)
cadet pilot programme 2012 (73)
cadet pilot program 2011 (72)
cadet pilot program 2012 (62)
cadet pilot resume (51)
biasiswa malaysia airlines (51)
cadet pilot direct intake (36)