Hi reader,
First I would like to say thanks to blogspot to offer such feature for blogger. My second thanks goes to Afham because gave the tutorial how to do it. I bought a new domain at namecheap  and now hosting it using blogspot. Its look like complicated to host set the setting to host under blogspot but atlast I did it. Here it comes Gvishnu.com. So the hosting setting taught by Afham using MercuMaya but I like to explain using namecheap.
1st Step - Buy your domain
You can buy domain at any domain selling website but I recommend you to buy it at namecheap because i'm explaining it using namecheap . It just cost you at $9.69 per domain. Payment can be done by Paypal or credit card.
2nd Step - Create a CNAME record
Since namecheap didnt offer it so I just like to explain what is CNAME about. CNAME is  entry within the Domain Name System (DNS) that specifies where a user can find your web pages, or any other URL. You'll use this to associate your custom domain with your blog. After registering your domain, decide if you want to use a particular subdomain for your blog. E.g. instead of www.mydomain.com you can use blog.mydomain.com.
3rd – Register at EveryDNS.net
I prefer you to manage domain using EveryDNS.net because its free and easy too. There will be setting you have to do at EveryDNS.net.
Do in number order.
4th Step – DNS Setting at Namecheap
Open your namecheap account and you must set your DNS setting. Like picture below: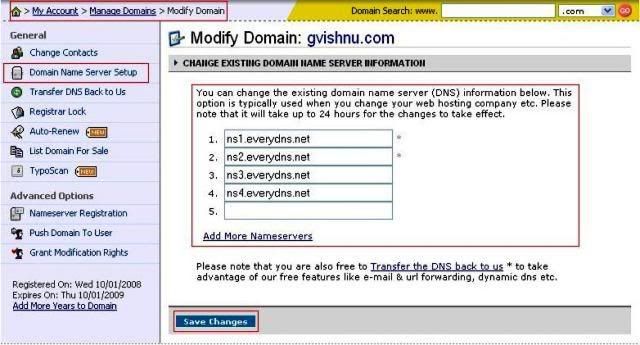 5th Step – Setting at blogger 
Fill in all the particular such as in the picture. Open your blogger > Setting > Publishing you can find the columns.
You also can switch back to blogspot when your domain is inactive or expired.
Please wait atleast 2 days to get your approval. You can refer to Malaysia Computer Technical or Afham for reference in Malay language and using other domain service.
Incoming search terms:
freedomain here blogspot (30)
free domain here blogspot (12)
freedomainhere blogspot com (12)
freedomainhere blogspot (11)
www freedomainhere blogspot com (4)
freedomain here blogspot com (4)
blogspot hosting (2)
how set blogspot DNS (2)
www freedomainhereblogspot com (2)
freedomainhere blogpot com (1)