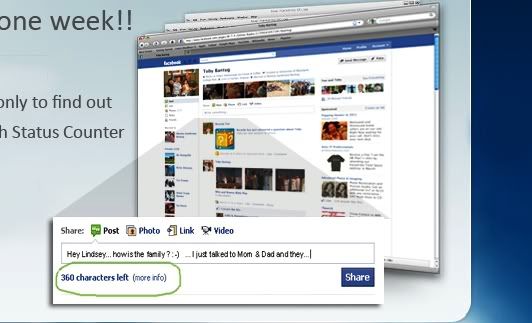 Hi readers,
I think this Firefox Add-On is important for all Facebook users. Do you ever wonder what is the character limit for you Facebook status update when you writing? No more worries with this Firefox add-on.
Facebook Status Counter is the free firefox add-on that enable you to know how much more you can write before the limit reaches. Too little of you'll knows that the limit of Facebook status updates is 420 characters. This free firefox add-on good for Facebook user whom encounter this limit often.
Install firefox add-on Facebook Status Counter – HERE
Watch Video
http://www.youtube.com/watch?v=EzoGJKRMPt8
*Note: You will see the counter once you start typing in the FB status box.
Incoming search terms:
firefox facebook (2)
firefox facebook counter (2)
firefox facebook status (2)
firefox Facebook Status Counter (2)
facebook counter firefox (2)
status counter (2)
status facebook (2)
firefox limiting facebook usage (1)
firefox facebook count (1)
firefox facebook counte (1)