There's a new laptop in town and I left breathless by this little wonder. Take a deep breath, folks!
WHAT: Apple MacBook Air sub-notebook
IT'S LIKE: The VK Lingam of MacBooks. "Looks like a MacBook, acts like a MacBook", but is not exactly a MacBook; it's much slimmer.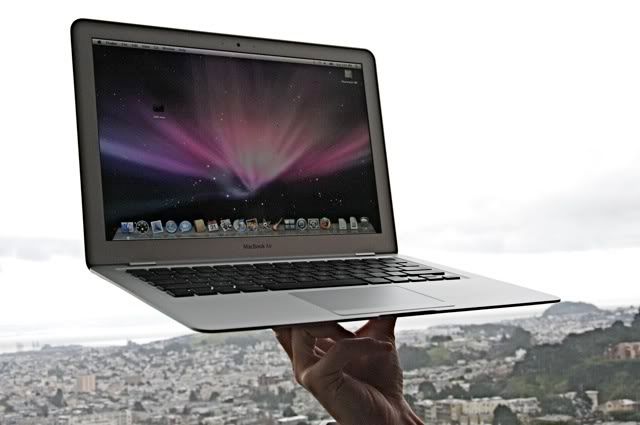 Intel Core 2 Duo processor
2GB memory
80GB 4200-rpm PATA hard drive1
Built-in 802.11n Wi-Fi2 and Bluetooth 2.1 + EDR
Price : RM6,299
What are the specifications of this wondrous notebook computer then?
It weighs 1.36kg, is only 1.93cm at its thickest, has an 80GB hard drive and comes prepped with full-on wireless features. Did I mention that it maintains an elegant 33.78cm widescreen display (back-lit by energy-efficient LEDs for a brighter image) and a back-lit full-size keyboard? At the top of the screen is an iSight video camera and microphone for a spot of online visual interaction. There's absolutely no compromise from Apple on this machine.
The good: Incredibly thin yet surprisingly sturdy; new trackpad gesture controls are very useful; remote optical drive makes living without a built-in drive much easier. The bad: Very limited connectivity; slower than other MacBooks; SSD hard-drive option is ridiculously expensive and standard hard drive is small; battery is not user replaceable.
The bottom line: The design is revolutionary, but Apple's MacBook Air will appeal to a smaller, more specialized audience than the standard MacBook, thanks to a stripped-down set of connections and features.
Incoming search terms:
apple laptop scholarships (4)
macbook scholarship 2011 (3)
apple laptop scholarship (1)
apple macbook (1)
apple macbook scholarship (1)
laptop or macbook (1)
whats cool about macbook air (1)